26 Jun

Credit Unions: Co-operative learning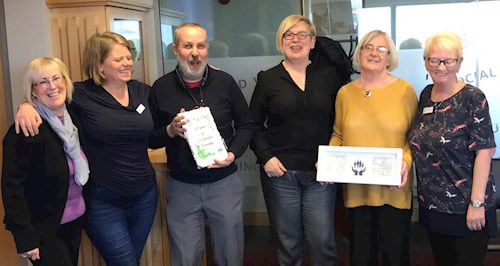 In the latest of our series of blogs, NHS Credit Union Chief Executive Ruth Dorman reflects on an informative visit.
It was my pleasure recently to participate in a delegation from the NHS Credit Union to our twins at Health Services Staffs Credit Union in Dublin. I was accompanied by our Chair, Elaine Rae, and directors Elizabeth Degning, Margaret Bain and Tom Waterhouse.
Our credit unions have been twinned since December 2002 supporting the operating principles which underpin our movement;
Open and voluntary membership
Democratic control
Return of surplus to members
Inclusion
Ongoing education
Co-operation among co-operatives
Social responsibility
Both organisations believe in the true spirit of the co-operative movement worldwide, that to foster the co-operative sector in society, credit unions must actively co-operate with other credit unions, co-operatives and their national and international representatives and associates in order to best serve the interest of their members and their 'community'.
The pledge between our credit unions states we will maintain permanent ties which foster positive exchanges between us to promote respect, understanding and celebration of our cultural similarities and differences and lasting friendships. To join forces to help ensure, to the utmost of our abilities, that our credit unions will be successful in bringing about financial stability, human and social development and justice for both of our individual members and the broader communities we serve.
The visit came as I entered my third month with the credit union it was a great opportunity to meet our twins at an early stage in my new role, to explore common issues, opportunities and challenges facing our members and the credit union movements in Scotland and Ireland.
I cannot thank Sean Hosford and his team enough for their hospitality and the learning which I personally gained from this early introduction to the Health Services Staff Credit Union. To quote our Chair: "Thank you again on behalf of the Board at NHS CU. We had a great visit with so much to learn. Your kindness and generosity is a shining example of co-operative working."
One great thing about the credit union movement is that those working in the industry can work together co-operatively, sharing ideas to impact positively on financial inclusion. So while my learning is on a steep curve I have amazing individuals from whom to draw such as their CEO Sean Hosford. Sean can be described as a "lifelong credit union activist", and is regarded as one of the leaders of the Irish credit union movement. He has been CEO since 1990, and has served as Chairman of the Credit Union Managers Association (CUMA) on several occasions. Originally from Cork, Sean holds a Masters in Co-operatives and Social Enterprise from University College Cork.
Along with other staff, Sean and his Oversight Committee and Board of Directors provided two days of jam-packed information for us all. We were taken through what works and where the challenges are in terms of the strategic and operational direction of their credit union, along with the opportunities and challenges presented by the overarching legislation and regulation in Ireland. This differs significantly in some areas from the UK legislation and regulation, with the most striking examples for me being;
Interest rates applied to borrowing can never be more than 1% per month
Directors cannot be remunerated
Requirements to participate in transfers of engagement are made upon failing credit unions
Board Oversight Committees
This visit has been hugely worthwhile for our delegation and is the start of an exchange in learning which I am confident will mean our members reap the benefits along with our volunteer board and staff. I look forward to developing more co-operative relationships across the sector at home and abroad.
Ruth Dorman,
Chief Executive Officer, NHS Credit Union
These two pictures from the trip show HSS Credit Union President Marie McBryan and Director Brendan Fagan with NHS Credit Union Directors Elizabeth Degning and Margaret Bain; Chair Elaine Rae, and CEO Ruth Dorman, and Sean Hosford with Ruth Dorman