Meet our new Chief Executive Officer
Your NHS Credit Union has a new Chief Executive Officer. Ruth Dorman is joining us from her post as Chief Executive of Deafblind Scotland.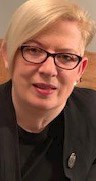 Ruth has worked in the field of Health and Community Care since 1981, initially training as a nurse then in the early 90s training as a social worker.
She worked in the Public Sector until 2005 when she joined the Not for Profit sector. There she has held various senior management positions including Board Director, Executive Director and Chief Executive Officer.
Born in Clydebank, Ruth's family has an extensive credit union history. Her parents – John and Rose – along with a group of family and friends, set up Dalmuir Credit Union. In fact, Rose was the first person to be honoured for services to credit unions when she was awarded an MBE in the 1998 Honours List.
In addition to her work with Deafblind Scotland, Ruth is a member of several charity boards and offers her services as a legacy celebrant free to individuals in funeral poverty.
She has been actively involved with (among others) the following boards: CCPS (Coalition of Care and Support Providers Scotland), SCOVI (Scottish Council on Visual Impairment), The Alliance (Long Term Conditions Alliance, current Chair) and Hansel Foundation.
Recently, she has been invited to sit on the steering group of the Rural Health Scotland Partnership and also sits as a recent recruit on the Innovation and Development Committee of the Robertson Trust.
In her downtime, Ruth enjoys the company and exercise of her French Bloodhound and takes time to pursue a variety of handicrafts including knitting, sewing and reading.
Welcoming our new CEO, NHS Credit Union Chair, Elaine Rae, said: "On behalf of members, the board of directors and staff, I would like to welcome Ruth Dorman as our new Chief Executive Officer. Ruth is an experienced and successful executive leader who comes from a family of credit union pioneers. She shares our values of democracy, equality, equity and caring for others and we are delighted with her appointment."
Ruth takes over from Robert Kelly who has moved to become CEO of ABCUL, the umbrella group for credit unions in the UK. She joins as membership of the NHS Credit Union approaches 18,000 all across Scotland and the north of England.