26 Jun

March 2019 Blog …

Help us support some great causes
Your NHS Credit Union is proud to help care for the financial health of members all over the country. But I'm also delighted that the organisation is keen to play its part in supporting the wider health community.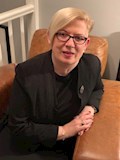 As part of this drive, in recent years, we have supported efforts to help fund the new Prince and Princess of Wales Hospice in Glasgow. And this year we are backing two charities – Bobath Scotland and Penumbra.
Our aim with these partnerships is to do much more than donate money to them – although that will be a big part of the campaign.
We are keen for members, staff and directors to all get involved in a number of initiatives that will not only raise much needed finance, but will also help raise awareness of the work done by our charity partners.
Such efforts – by members, staff and directors – helped us raise around £6,000 for the Hospice appeal. One of the biggest fundraisers was the Bubble Bath run in Bellahouston Park where a Credit Union team took part in a fun challenge and raised hundreds of pounds for the cause.
Later this summer, we will offer members the chance to get involved in a couple of major fund-raising initiatives for Bobath and Penumbra. More details will follow nearer the time, but here's a brief glimpse into what these charities do.
Bobath Scotland provides therapy for children and adults with cerebral palsy throughout Scotland, while Penumbra is one of Scotland's largest mental health charities, supporting around 1600 adults and young people every week.
We'll be looking for you – our members – to get involved with those initiatives, but we are already looking ahead to next year and seeking your support.
The credit union's Annual General Meeting will be held in December, at which time members will approve our charity partners for next year.
However, rather than the team here naming that partnership, we are asking our members to nominate worthy causes for consideration.
If there is a charity that has made a difference to you or your family, this could be the opportunity to return that favour. Nominate them as our charity partner for next year and there could be around 18,000 people backing their cause.
All you need to do to nominate a potential charity partner is to email news@nhscreditunion.com with the name of the organisation and brief details of why you think we should support them.
A panel of Credit Union members will look at nominations and develop a proposal to put to the membership at the AGM.
Here's your chance to ensure that your favourite charity enters into a partnership with NHS Credit Union members all over the country. I look forward to receiving your nominations and seeing us all play a part in supporting charity work.
Ruth Dorman,
Chief Executive Officer, NHS Credit Union