26 Jun

October 2018 Blog …
20 years of the NHS Credit Union – from strength to strength

2018 is a special year for all of us involved in the NHS Credit Union. Not only does it mark our 20th birthday, but it's also the 70th anniversary of the NHS itself. When Nye Bevan founded the National Health Service in 1948, he did so with the values of social justice and universal access at its core. I'm proud to say that these beliefs still run just as strongly throughout our Credit Union.
Like many of our colleagues in the healthcare industry, those of us in the ethical finance sector are driven by the desire to enact change, and to help others. I'm absolutely confident of the fact that this is our key driving factor here at the NHS CU. It's this belief that's been motivating us since 1998.
Since that time, we've achieved some fantastic milestones. We now employ a staff of 17 people, serving over 17,000 NHS staff, with total assets of more than £23 million. We've been able to expand our product offering, from a maximum loan amount of £2,000 in 1998, to a range of different products up to the value of £25,000 in 2018.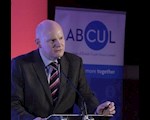 The progress we've made is no accident, and has only been made possible thanks to the cooperation, dedication, and enthusiasm of the NHS CU team.
This is in no small part down to our former recent CEO, Robert Kelly, who has since moved on to lead our national trade association as ABCUL Chief Executive Officer. Those of us at the NHS CU who know Robert, have no doubt that Robert's unwavering passion and wealth of experience make him the perfect candidate to lead our movement into what is undoubtedly an exciting time for all credit unions.
The recent demise of payday lender Wonga, and the increasing awareness of ethical alternatives present credit unions with a perfect opportunity to put ourselves forwards as a fairer, more affordable option to those in need of our services.
Closer to the home of the NHS CU in Glasgow, was the news that the Scottish government plans to invest over £1million into cooperatives and credit unions in the area. As the latest Programme for Government 2018/2019 states, "accessing affordable credit is a concern generally across Scotland," and this kind of investment is absolutely crucial to bringing about inclusive economic and social change. It's exciting news, and we'll certainly be welcoming it here at the NHS CU.
Just as it's a great time to be involved in credit unions, it's a great time to be a member of our credit union. We're improving how we do things, from communicating with members, to making our services more accessible and visible to those who can benefit from joining. In our industry, it's crucial not to stay still, but to evolve and adapt with the current climate and the challenges we face. We can't wait for what the future holds – for ourselves, our current members, and our future members too.
We'll be celebrating our 20th birthday on the 20th November in Glasgow, and we're all looking forward to what's promising to be a fantastic occasion, so be sure to stay tuned to our social media channels for updates and coverage from the day itself.
Maureen Paterson,
Interim Chief Executive Officer & Head of Finance, NHS Credit Union